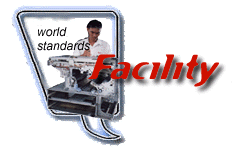 RICOMAC BUILDING
A 20,000 sq. ft. facility located in the industrial city of Shah Alam, Adjacent to the capital city of Kuala Lumpur.

SHOWROOM
Displays a comprehensive range of Ricomac's Export Standard High-Quality Remanufactured RICOH copiers.

PRODUCTION FLOOR
24-Booth Remanufacturing Department. Each booth is specially designed with rotating table-top for maximum efficiency and effective quality process. Each booth is manned by a skilled Production Technician supervised by several highly-experienced Line Supervisors.
QUALITY CONTROL SYSTEM
Each and every Ricomac's Remanufactured RICOH Copiers undergo stringent final quality process before delivery to both domestic and export customers. THE RICOMAC STANDARD.
Ricomac Corporation Sdn. Bhd.
RICOMAC HOUSE: No. 23, Jalan Pemberita U1/49,
Temasya Industrial Park, Glenmarie,
40150 Shah Alam, Selangor, Malaysia.
Tel: 60-3-5569 3377 Fax: 60-3-5569 5699, 5569 5755
Email: ricomac@ricomac.com
Website: www.ricomac.com

"ASIA's LEADING PROVIDER OF
REMANUFACTURED RICOH COPIERS"