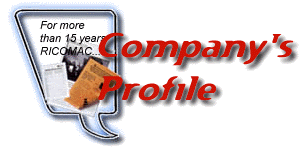 For more than 25 years, RICOMAC CORPORATION have been serving both the domestic and export markets in providing its renowned high-quality Remanufactured RICOH Copiers and Multifunctionals at competitive price. We pioneered in adapting our product and services to suit every office's copying/printing/scanning/faxing needs by offering a comprehensive range of Ricoh multifunctional models.

We built our reputation on the strength of our devotion to provide solution – yes, document solutions! At Ricomac, our mission is to catalyse on a simple word - LOGICS. Hence, our philosophy is simple - merely being Practical, Logical and Sensible. Our vision, therefore, is to play the lead role in providing affordable and indispensable everyday's office tool – our All-In-One Remanufactured Ricoh Multifunctional with Copy/Print/Scan/Fax functions at a fraction the price of a new one without compromising on performance, reliability and functionality.
"LEADING PROVIDER OF RICOH COPYING SYSTEMS & MULTIFUNCTIONALS"
We pride ourselves as the Most Preferred Provider Of Remanufactured RICOH Copying Systems & Multifunctionals.

We are proud that RICOMAC's Remanufactured RICOH products are acknowledged to be of World Standard in overall product quality.
Our high-quality remanufactured Ricoh products are found in thousands of offices in our domestic Malaysian market as well as being exported regularly to our overseas distributors in many countries.
<![if !supportLineBreakNewLine]>
<![endif]>
Ricomac Corporation Sdn. Bhd.
RICOMAC HOUSE: No. 23, Jalan Pemberita U1/49,
Temasya Industrial Park, Glenmarie,
40150 Shah Alam, Selangor, Malaysia.
Tel: 60-3-5569 3377 Fax: 60-3-5569 5699, 5569 5755
Email: ricomac@ricomac.com
Website: www.ricomac.com

"ASIA's LEADING PROVIDER OF
REMANUFACTURED RICOH COPIERS"